We need your consent to load this YouTube contentWe use YouTube to manage extra content that can set cookies on your device and collect data about your activity. Please review their details and accept them to load the content.Manage Preferences
During the summer Kilkenny may have lost the hurling, but one of their students, Rohan Vargas (16) won the title of Microsoft Office Specialist (MOS) Word World Champion taking home a cheque for $7,000.
CBS Kilkenny student Rohan won gold at the MOS UK & Ireland Championship final in June. His prize was the opportunity to compete and represent his country at the Microsoft MOS World Championship Final in Disneyland California, a trip of a lifetime, sponsored by Prodigy Learning.
The global competition in its 20th year, attracted more than 200,000 contestants from 100+ countries. To enter the competition, students aged 13 – 22 sat a qualifying Microsoft Office Specialist (MOS) certification exam to prove their superior skills in Microsoft Office Word, Excel, and PowerPoint.
You can watch the full ceremony up top. Rohan accepts his prize around 50 minutes in.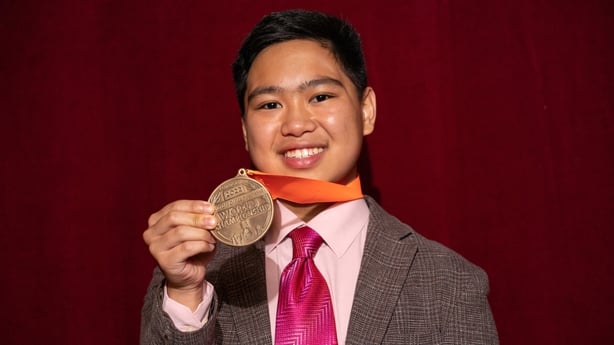 Here, Rohan tells us how it all came about and what it was like to win the big prize!
Tell us how a TY project leads to you becoming a World Champion?
I was introduced to Microsoft Office Specialist certification through a "Computers" module in Transition Year. The course involved students acquiring certification in Microsoft software applications (Word, PowerPoint, Excel).
Having these certifications tells potential employers you have advanced knowledge and proficiency in such applications, giving you the extra edge over other candidates. Digital skills are considered almost essential in many careers today. I took my Word 2016 exam in January of this year.
In May, my teacher Ms. Mercer informed me that I achieved one of the highest scores nationally among secondary school students and that I was invited to the Irish final at Microsoft Dublin. The certification exam and competition tests students' proficiency in Microsoft applications by giving them a series of mini projects to complete within 50 minutes.
Students may be required to format the accounts of a small business, create a high-quality presentation for the clients of an organisation or design business letters to be distributed to employees. From there, I progressed from the Irish final to the UK & Ireland Final and finally the World Championship at Disneyland California in Anaheim.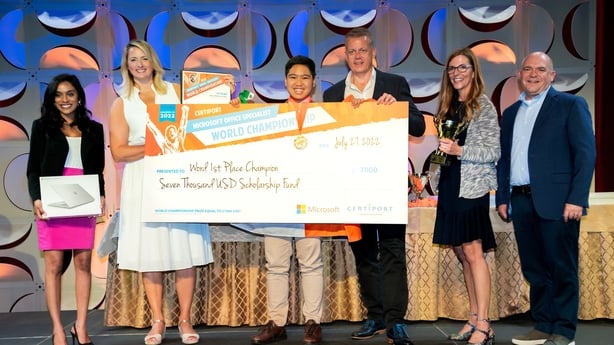 How much did you know about the competition before you started? Did you ever think you would win it all?
I knew virtually nothing about the competition before I started. In fact, I only began to hit the books when I knew that I qualified for the Irish final in May, just two months before the World Championship in Anaheim.
Never in a million years did I expect to win the first prize – I only had two months of preparation under my belt when many students and professionals alike spend years getting familiar with Microsoft software. Students from the USA and Vietnam had electives in their schools exclusively dedicated to this competition.
It was the first time CBS Kilkenny had introduced this course into their TY computer curriculum, so it came as a complete shock to them as well. I had no prior experience in ICT skills or Microsoft software beforehand, I was flabbergasted with how well I performed.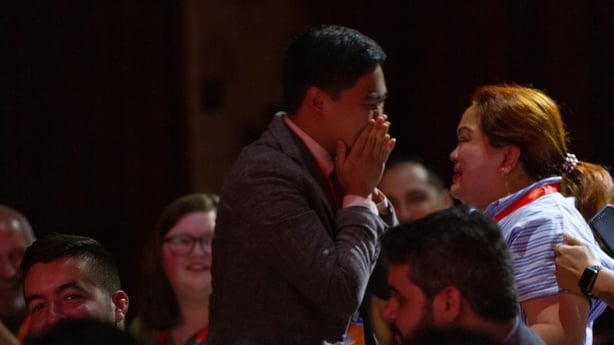 What was the reaction at home and at school?
The Irish team were one of the smallest during the awards ceremony but without a doubt, we had one of the most boisterous reactions. My family, cousins and relatives were over the moon. My Mum and I came to this competition to enjoy the wonders of Disneyland and get to explore Anaheim with my uncle, but we came home with more than we anticipated.
Many thanks to Caroline Mercer and the community at CBS Kilkenny who never failed to shower me with praise and support me from their social media – our school is an incredibly proud and strong community at the heart of Kilkenny city, we always endeavour to encourage our multi-talented student body.
My grandparents threw a little party to celebrate my win over in the Philippines, my family and I actually visited them just a month before in June for their 50th wedding anniversary so I guess this can be my anniversary gift for them. I am so blessed to have them.
Rohan says to get involved…
A million thanks to Prodigy Learning, the company who sponsored me to attend such a fantastic event in California. Prodigy Learning specializes in providing ICT skills, training, and certification to help people excel in their careers.
Prodigy Learning sponsored the Irish, UK and Australian finalists. A special thank you to Aisling Ní Cheallaigh, the marketing lead from Prodigy who has helped me prepare for this competition from square one. I urge all Irish students to get certified and to participate I this competition. It will mark the beginning of a journey for many of you.
The skills you will learn, the memories you will make and the people you will meet from across the globe make this an incredibly worthwhile experience. Teachers, please work to integrate this competition into your classrooms and spread awareness, there is no better time than now as we live in the digital age, and it is never too late!
Teachers can find out how to register now here!
© RTÉ 2022. RTÉ.ie is the website of Raidió Teilifís Éireann, Ireland's National Public Service Media. RTÉ is not responsible for the content of external internet sites.
Images Courtesy of Getty Images.