04 May

Opinion: Fumbled Redfall launch shows Microsoft has become its own worst enemy

Server

Microsoft has a first-party problem that I'm not sure it knows how to address.

As you'll have heard by now, the company launched Redfall earlier this week and to say it hasn't reviewed well would be a generous read. Like the residents of the shooter's titular island, Redfall has been torn apart. In this metaphor, Xbox owners are the terrified locals huddled in their basements while their once-idyllic town is ravaged by otherworldly forces that only come out at night. As for Microsoft? Well, it's the machiavellian bloodsucker.

Alright, that might be a tad hyperbolic, but I figured you'd enjoy the imagery. The point stands, though. Redfall's underwhelming launch presents a huge issue for Microsoft. The company has been crying out for a bona fide first-party hit–one capable of rivalling Nintendo's revered The Legend of Zelda series and Sony's award-winning trauma simulator The Last of Us–and Redfall just ain't it.

Out of sheer morbid curiosity, I decided to take Redfall for a spin earlier this week, and what I found was a half-baked shooter that feels like it was rushed out to meet some internal quota. Is it the worst game I've ever spent time with? No. But it's a damaging release for both Microsoft and developer Arkane–remember, this is the studio behind Dishonored, Deathloop, and Prey–because it feels so damn pedestrian.

Redfall is admittedly something of a departure for Arkane in that it's a fully open-world co-op experience, but you'd have backed a studio with its pedigree to stick the landing. You'd have also backed Microsoft, a company desperate for a first-party slam dunk, to give Arkane the time it needed to ensure Redfall launched in pristine condition. Neither of those things happened, and the question remains: why not?
Server Microsoft misses the mark (again)
It has been almost a year to the day that Microsoft announced it would be delaying both Redfall and Starfield until the first half of 2023, with Xbox boss Phil Spencer explaining the company was determined to "release these great games when they're ready." Starfield still has the chance to impress, but even those who found something to love in Redfall would be hard pressed to admit the game is anywhere approaching "great." Crucially, Spencer also said Microsoft fully supports giving teams the time they need to add polish. So what changed?
In lieu of a public inquest, it's difficult to know. Is Microsoft becoming distracted by its proposed Activision Blizzard merger and subsequent battle with regulators? Is it so eager to get first-party titles onto Xbox Game Pass that it's willing to employ a "launch first, fix later" strategy? The latter feels at least vaguely possible, given Xbox Game Pass players are likely to be more forgiving of a certain flaws than, say, somebody who forked out $70.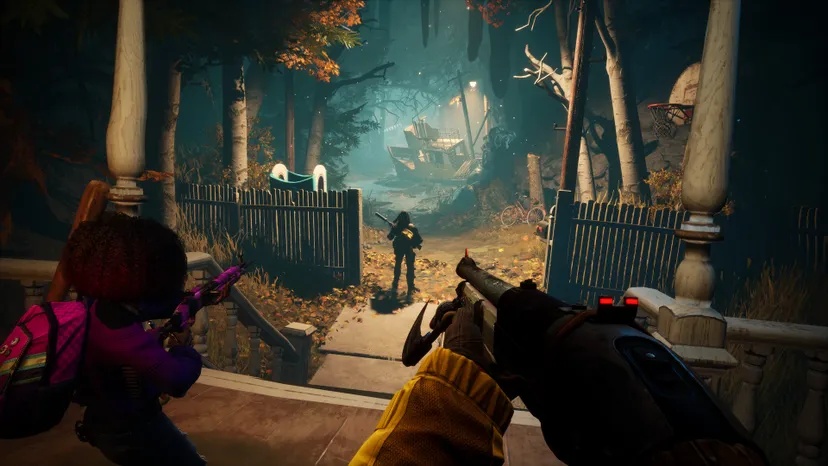 It also tallies with recent(ish) comments made by Microsoft. In 2021, Xbox Game Studios head Matt Booty told Kinda Funny the company harbors ambitions of releasing a new first-party title every quarter. Hard cut to "one year later," and you've got Phil Spencer admitting "it's been too long since we've shipped what people would say is a big first-party game," indicating the company was struggling to meet its own internal targets. "We can have our excuses on Covid and other things," added Spencer, speaking on the Same Brain podcast in October 2022, "but in the end, I know people invest in our platform, and they want to have great games."
In many ways, Spencer has hit the nail on the head. As a reporter, I'd be fascinated to hear how the company would excuse the current state of Redfall. There's no easy way to make a game, so I'm not blaming anybody at Arkane Austin for releasing a serviceable if somewhat underwhelming experience in the wake of a global pandemic while the tech and video game industries tear themselves apart. For me, the buck stops with Microsoft–and while I'm actually hopeful that Redfall will come good with plenty of support–I would love to know what happened behind-the-scenes to result in this: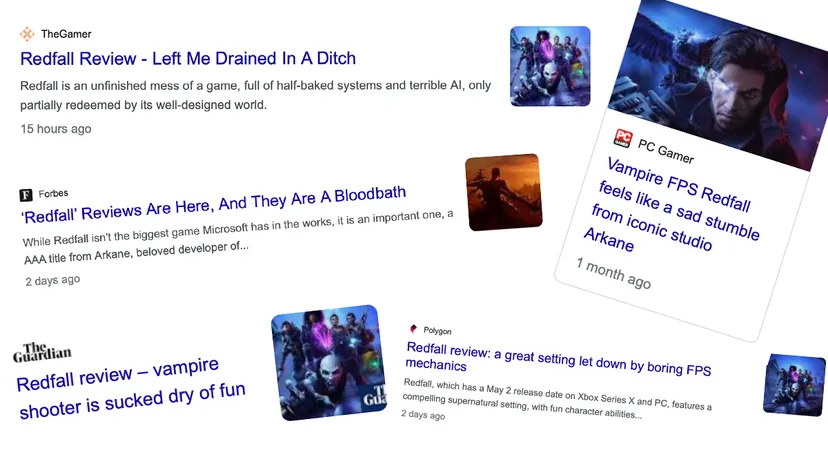 Your average Xbox owner, though, won't care why this happened. But what they might have started to notice is Microsoft's inability to hit the back of the net when it matters. Like a mid-table Premier League outfit throwing the keeper forward in extra time, the company appears to be putting itself under needless pressure before conceding soft goals as a result.
It fluffed the release of Halo Infinite by overpromising and underdelivering, initially suggesting its flagship shooter would be a Xbox Series X | S launch title before pushing it back and axing notable features such as campaign co-op and Forge from the day one version. It delayed Starfield numerous times, with the most recent setback meaning Bethesda's long-gestating RPG will now be launching in September 2023 instead of the first half of the year. It has also been years since we've glimpsed other major first-party projects like Everwild and Fable–announced back in 2019 and 2020, respectively. What we have seen, however, are reports of unrest at Everwild developer Rare that suggest the game has been completely rebooted.
Server Mind the gap
There's nothing wrong with delaying or reworking projects. It bears repeating: making video games is hard. There are going to be obstacles that blindside even the most experienced dev teams. But it's becoming apparent that something is happening behind-closed-doors at Microsoft that's preventing the console maker from delivering the sort of quality it desperately craves. Sure, there have been some wins in the form of surprise release Hi-Fi Rush and other first-party efforts like Grounded, Forza Horizon 5, Sea of Thieves, and Microsoft Flight Simulator, but I don't think it would be unfair to suggest those titles lack the Hollywood clout Microsoft is chasing.
There's a bigger concern here too. The more Microsoft struggles to deliver, the more its internal dev teams will feel the pressure to churn out the Next Big Thing. What happens if Starfield misses the mark in September? Will another studio be placed in the firing line? It feels like the company is playing a dangerous game in suggesting a first-party renaissance is imminent without having the product–or capabilities–to truly back that claim up. 
Microsoft needs to get its house in order to avoid repeating mistakes that aren't just damaging its own brand, but those of the studios it has spent billions to acquire. Game Pass remains an easy sell and the company's Xbox hardware is hard to fault. But video games sell consoles, and in that respect, the gap between Microsoft and the other members of the traditional "Big Three" is slowly becoming a chasm.