Microsoft Office 2019 Professional Plus
INSTANT DIGITAL DELIVERY!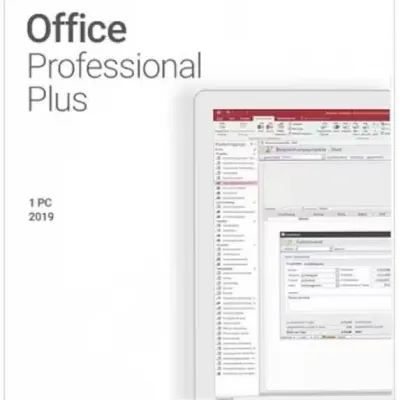 What our customers say about us
Can't make up your mind? Why not pay later?
Select Klarna or Clearpay on checkout
Description
Increase your productivity by using the most recent versions of classic Office applications and email. It also includes new inking tools, data types, functions, translation and editing tools, animated graphics, and other cutting-edge work options! This digital software product includes Classic 2019 versions of Word, Excel, PowerPoint, Outlook, Publisher, and Access.
Understand random languages
Journey across the globe with Microsoft Translator to translate words, phrases, and other text selections into something everyone can understand. Simply highlight text in your favorite browser, have it translated what you want, then watch as it speaks the translated text aloud. If you need to make a quick edit or addition to what you've translated, simply undo the last step. And, when you're done translating, you can convert your text back to its original format.
Quality visual graphic
Microsoft Office 2019 is the only productivity suite that lets you create and publish content with new capabilities, such as those found in the Picture Manager, Publisher, and Writer. And now, with SVG support added to PowerPoint 2019, Pivot Charts—as well as SmartArt Graphics and Shapes—are now available as full SVG objects so you can easily modify them to achieve the perfect effect.
Fixed accessibility issues on-time
If you're like most people, you don't think about accessibility when you create a document. But it's important to make your documents accessible. The Accessibility Checker helps you check for issues that make it harder for people to use the information in your documents. And it makes recommendations for how to fix them. Now, Accessibility Checker gives you even better feedback with updated support for international standards, like Section 508 in the United States and WCAG 2.0 in many other countries. Use the new Document Inspector to test your Microsoft Word documents as well as websites and PDF files from any browser.
Microsoft Office 2019 Professional Plus Digital Download helps you achieve your goals. Designed for times when you're working away from the office—like a home-based worker, freelancer, or work-from-home parent who wants to keep in touch with colleagues—Office 2019 keeps everyone on the same page.
Microsoft online support
If you run into a problem or can't find a solution, Microsoft has you covered with free technical support via chat or phone. Allows you to ask, get help, and assistance with Microsoft products related to your purchase.
EES-6IF2F5418
Live Stock:
In stock