Microsoft Office 2021 Home and Student - DIGITAL Email Delivery
INSTANT DIGITAL DELIVERY!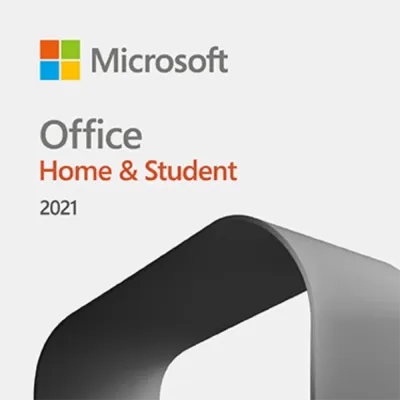 What our customers say about us
Can't make up your mind? Why not pay later?
Select Klarna or Clearpay on checkout
Description
Microsoft Office 2021 Home and Student Product Features
As expected, Microsoft Office is releasing a new version that features many new capabilities that are described fully here. Highlights include support for OpenDoc format 1.1 and new Excel features, presentation recording functionality, and new translation functionality for Outlook. A new smart Search box is added to each Office application's top page to help users find information quickly. All the applications received visual updates which align the user experience with Microsoft Windows 11.
What is it?
Office 2021 is the latest version of Microsofts most famous desktop software suite. The program offers favorite applications and new offerings like Teams and Word and a wide variety of other applications for the Mac. While the challenge for Google's workspace is getting more fierce, Microsoft Office remains widely known as the strongest productivity software product available.
Key benefits
The necessary tools for everything. Office Home and Student 2121 is for students and families who need a standard office software package, such as Excel for Windows 10 or Mac OS X 10. One-time purchases are installed on 1 computer or Macbook to use at home or in school.
Is Outlook included in Office Home and Student 2021?
No. Office Home & Student 2021 has the classic version of apps like Word, Excel & PowerPoint.
Does Office Home and Student 2021 work on Windows 10?
Yes. Office 2021 Home student runs on Windows 11, Windows 10, or the latest macOS version.
EES-4G91915508
Live Stock:
In stock
If you are buying for work or your business we offer a range of benefits to help, such as:
Credit Account Facilities (subject to approval)
ISO 9001/14001 Certification
Microsoft Gold Partnership
Business Leasing
Members of major purchasing frameworks
90 day money back guarantee
Upon successful completion of your purchase, you'll promptly receive a 25-digit activation key for Microsoft Office 2021 Home and Student and associated COA (Certificate of Authenticity).
Here are the minimum system requirements for installing this suite. We recommend exceeding these in order to guarantee yourself an enjoyable experience with this software:
Processor: 1.6 GHz or faster, 2-core processor.

Memory / RAM: 4 GB or more for 64-bit; 2 GB or more for 32-bit based systems.

Hard disk: A minimum of 4GB available hard disk space is required on the installation harddrive.

Operating System: Windows 10 or Windows 11 is required for Office 2021. Mac OS you MUST have the latest 3 versions of Mac OS installed.

Graphics: Graphics hardware acceleration requires DirectX 9 or later, with WDDM 2.0 or higher on Windows 10.

.NET version: Some features may require .NET 3.5 or 4.6 and higher to also be installed.

Other requirements:

Internet functionality requires an internet connection.

A Microsoft account may be required.

A touch-enabled device is required to use any multitouch functionality.

Functionality and graphics of the included applications may vary based on your system.
Customer Reviews
Great purchase!
Genuine Windows 11 Pro key for only £25.What's not to like? Delivery was fast too.
Great purchase!
Great value & service. Highly recommended.
Great purchase!
Bought Microsoft Office 2019 Pro Plus. A bargain price and installed following the instructions, worked seamlessly, very pleased.
Great purchase!
straightforward but you do need a microsoft account to do the download, not everyone has one.
Great purchase!
Fast efficient ordering process via company website in mid-March and very helpful pre-order telephone support from Wayne re advice sought over MS Office package to be received. Once made, order was processed and despatched immediately. Oh... I forgot the amazing price!! Thank you.
Great purchase!
I received great help in setting up Outlook.com as I use my PC as a tool with little other expertise
Great purchase!
I bought this product at a very reasonable price. I struggled to install it and rang the helpline on a Sunday evening. I had a friendly, prompt, efficient reply and I can't praise them enough. I will certainly use them again. Excellent service and price.
Great purchase!
The email containing instructions for downloading and installing the programme I purchased arrived immediately after payment and was clear and concise.
Great purchase!
Great service as usual - have recommended you to other people
Awesome, worked instantly.
Compra rapida y funcionando directo con la activacion de Windows desde la configuración
Yo, you guessed it....... Like a Glove!
Just paid, copied, pasted and activated.. it works!
Works as expected. You order, you pay, and within seconds you can copy paste the key. Perfect!
Buenos días amigo se puede pagar con PayPal Windows 11 Pro y es válido para Venezuela?saludos
La clave se entrega al instante y W11 Pro funcionando perfecto
Hola como puedo vincular con mi cuenta microsoft?
Fast delivered and easy installation!
Aktivierung hat funktioniert. Win11 Pro war bereits installiert und inaktiv
Reccomended, it worked immediatly.
Werkt gewoon! Snel en goedkoop
Highly reccomend to anyone in need of a windows key, I was really sketched out but just winged it since it was only $5 so either win or lose but it turned out to be 5 bucks well spent. RIP watermark lol ;)
Fast, easy copy and paste, no restart. Perfect and cheap!
Excelente, activada permanentemente en mi equipo y vinculada a mi cuenta de Microsoft.
Compra rápida y clave de activación en el instante. Funciona perfectamente.
Excellent service. Activated Windows 11 Home Virtual Machine on Parallels Desktop & upgraded it to Windows 11 Pro. Highly recommended!
Very fast delivery and it worked perfect to upgrade my Win11 home -> pro without the need of a reinstallation; just changed the product key. Very happy with the key :)
Rapida entrega , estoy satisfecho con el producto.
I have directly upgraded my key from Win 11 home single language to Win 11 pro. My device restarted . I don't know this will create any problem or not . But Form 30 min. it is working . I am hoping nothing should go wrong while using this key . Good work BTW . I have received key within 30-40 seconds.
Funciona bien, gran compra!
Funciona perfectamente y la clave la obtienes en segundos.
Worked fine. :) No trouble activating Win11Pro
Just purchased key for Windows 11 Pro. Was skeptical at first especially due to low cost... but reviews of Elite was very favorable on Trustpilot. Key code came in quickly and activated my product immediately without any issues. Hard to go wrong for the cost and no hassle.
Tengo una portátil con Windows 11 home de fábrica puedo actualizar con esta clave a Pro?sin necesidad de volver a formatear?
Comprada clave de windows 11 y llegó y funcionó de inmediato
Muy buena compra, la verdad desconfiaba pero me sorprendio y compre una de windows 10 y 11 pro
Everything went perfectly and for good price, I recommended it.
Wow it actually works lol, Does the job I guess
Fast delivery and 100% efficiency!!
I'm really recommending this page. I've received the code in a flash and all went very smoothly. Now I can change in system all I want! Thank you so much!
Code was provided instantly. Activated instantly online. No issues.
Fast efficent service 10/10
worked ++++++++++++++++++++++++++++++++++++++++++++++
1000% official, good and working
1000% recommended, real, and official
Worked like a charm, Arigatou
Everything went smooth. Easy
Pensé que no serviría pero funcionó perfecto y me llego la clave en menos de 1 minuto en el sitio web, Validé mi windows e indica lecencia permanente
Worked fast, cheap and perfectly!
Worked as expected, original product key, Perfect! Thanks :))
test things out. I will try
Activated 2 PC's with no problem. Easy and quick. Couldn't be happier.
People who think this is a scam it's not, quick, fast easy and cheap, took about 1 minutes to get the key, and it works! Thank you Elite
It works perfect. Recommendation!
Much love From South Africa.. <3 not bullshit here
Great stuff, key was available within seconds - punched it in and update to pro was completed within minutes.
Seguro y a buen precio, necesitaba una clave barata y esto fue la solución, se la recomiendo a todo aquel que no quiera gastarse un dineral en claves.
Worked instantly. Not a scam lol def gonna buy again if I need it
La Clé a été délivré ultra rapidement, le fait de pouvoir utiliser Paypal m'a rassuré. Ah, et j'oubliais le plus important la clé fonctionne. Merci à Elite !!!
Perfect as always, i buy some keys and all fine
got the code instantly and it worked
FANTASTIC. Great price for a Windows key. Purchased easily, received within seconds and activated instantly.
great, the activation worked
I risked it, but it truly delivered. $4 well spent. Super fast delivery and worked at first try.
Works Great! Best Customer Service I have recieved!
Would fr risk getting scammed again by some shady website (its not shady anymore)
ottimo servizio, velocissimo e funzionante al 100%. consigliato
Is worked yes. See my balls.
lolardo funcionó, baratarda la clave que la vida está muy jodida
i really word glad i bouth on this site works like a charm
Very good not a scam and was amazing
Clave al momento. Super bien la verdad.
me ha servido mucho, es rapido y fiable (aunque no lo parecia en un principio)
la licencia es perfecta y se genero inmediato
Hello, o have now windows 10 pro, can I not chance the code and install the rest. I can not win 11 install without the code. But win 10 pro works perfect.
key works and quick delivery
It worked very awesome very fast delivery and good key
Fast, efficient, great service! I was skeptical at first but it all went smooth, 10/10, 100% reccommended
10/10 would risk getting scammed again :)
very fast delivery and good key
Veloce e sicuro. Comprerò di nuovo!
Was a bit hesitant to buy but I definitely do not regret. Received the key within 30 seconds of purchasing. $6AUD instead of $300+ for an activation key is definitely worth it!
The key was instant and it worked, a little surprised it did, but it did.
THANK YOU!! I had just spend the past 2 days with Microsoft tech support trying to activate my machine to no avail, so I decided to buy a new key from a 3rd party to accelerate the proccess. $5 for a pro license is the best
lMAO just spend $4 to get windows instead of trying to get it for free
Another purchase, another computer upgraded and activated to Windows 11 Pro. Can't beat the price.
Instale el windows sin ningun problema.
Todo perfecto. Proceso rápido, seguro y funcional.
Antonio Fernández Sánchez
every thing 100 I bought this key 2 i like this 4Real4Real4REAL!
Totally reliable, 10/10 the best price
Perfect transaction, recieved my key instantly.
best service thanks windows activated instent
Wow, follow the instructions and... Activated!
Totally reliable, 10/10 the best price, not OEM and PRO version.
IT worked perfect. Purchased a new gaming laptop and soon found out I only had Windows 11 Home edition. I purchased the license for Windows 11 Pro, selected I have a license in windows settings and boom! Works perfect!!
Took my credit card information and sold it on the dark web
VERY FAST AND WORKS 1000000%
Ho attivato Windows 11 Pro in meno di un minuto con meno di €. 3,50 Lo consiglio a tutti!
Funciona perfectamente, estoy sorprendido por el precio pero todo marcha bien