Microsoft SQL Server 2022 Standard
INSTANT DIGITAL DELIVERY!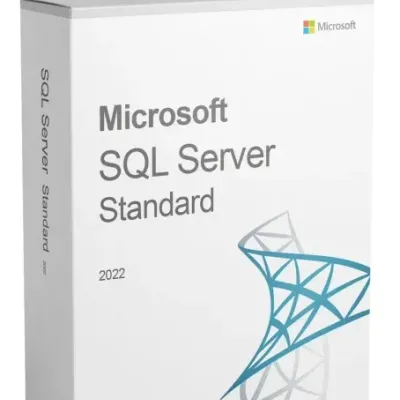 What our customers say about us
Can't make up your mind? Why not pay later?
Select Klarna or Clearpay on checkout
Description
Microsoft SQL Server 2022 is the most Azure-enabled version to date
Microsoft SQL Server and offers further innovations in performance, security and availability. It is part of the Microsoft Intelligent Data Platform, which unifies operational databases, analytics and data management.

SQL Server 2022 integrates with Azure Synapse Link and Microsoft Purview to provide customers with deeper insight, prediction and governance from their data at scale. Cloud integration is enhanced with managed disaster recovery (DR) on Azure SQL Managed Instance and real-time analytics, allowing database administrators to manage their data assets with greater flexibility and minimal end-user impact. Performance and scalability are automatically improved with built-in query intelligence.
Business continuity with Azure

Ensure availability with fully managed disaster recovery in the cloud with Azure SQL's managed instance linking capability. Continuously replicate data to and from the cloud.

End-to-end analysis of on-premises operational data.

Gain near real-time insights by removing the separation between operational and analytical stores. With Azure Synapse Link, you can analyze all your Spark and SQL runtime data in the cloud.

Industry-leading performance and availability

Benefit from performance and availability improvements to enable faster queries and ensure business continuity. Accelerate query performance and optimization without changing code. Keep multi-write environments running smoothly when your users are spread across multiple locations.

One of the most secure databases in 10 years

Achieve your security and compliance goals with the database that has been one of the most secure in ten years. Use an immutable general ledger to protect data from tampering.

Transparency for your entire data set

Manage and control your entire data set and overcome data silos by integrating SQL Server with Azure Purview.

The most requested features for SQL Server 2022 EAP applicants include:
Link feature for Azure SQL Managed Instance1:
To ensure uptime, SQL Server 2022 is fully integrated with the new Link feature in Azure SQL Managed Instance. With this feature, you now get all the benefits of a Platform-as-a-Service (PaaS) environment applied to DR, so you spend less time setting up and managing it, even compared to an Infrastructure-as-a-Service (IaaS) environment. General availability of the Link bi-directional disaster recovery capability for Azure SQL Managed Instance will follow the general availability of SQL Server 2022.
Azure Synapse Link for SQL:
Azure Synapse Link for SQL Server 2022 provides near real-time analytics and hybrid transactional and analytical processing with minimal impact on operational systems.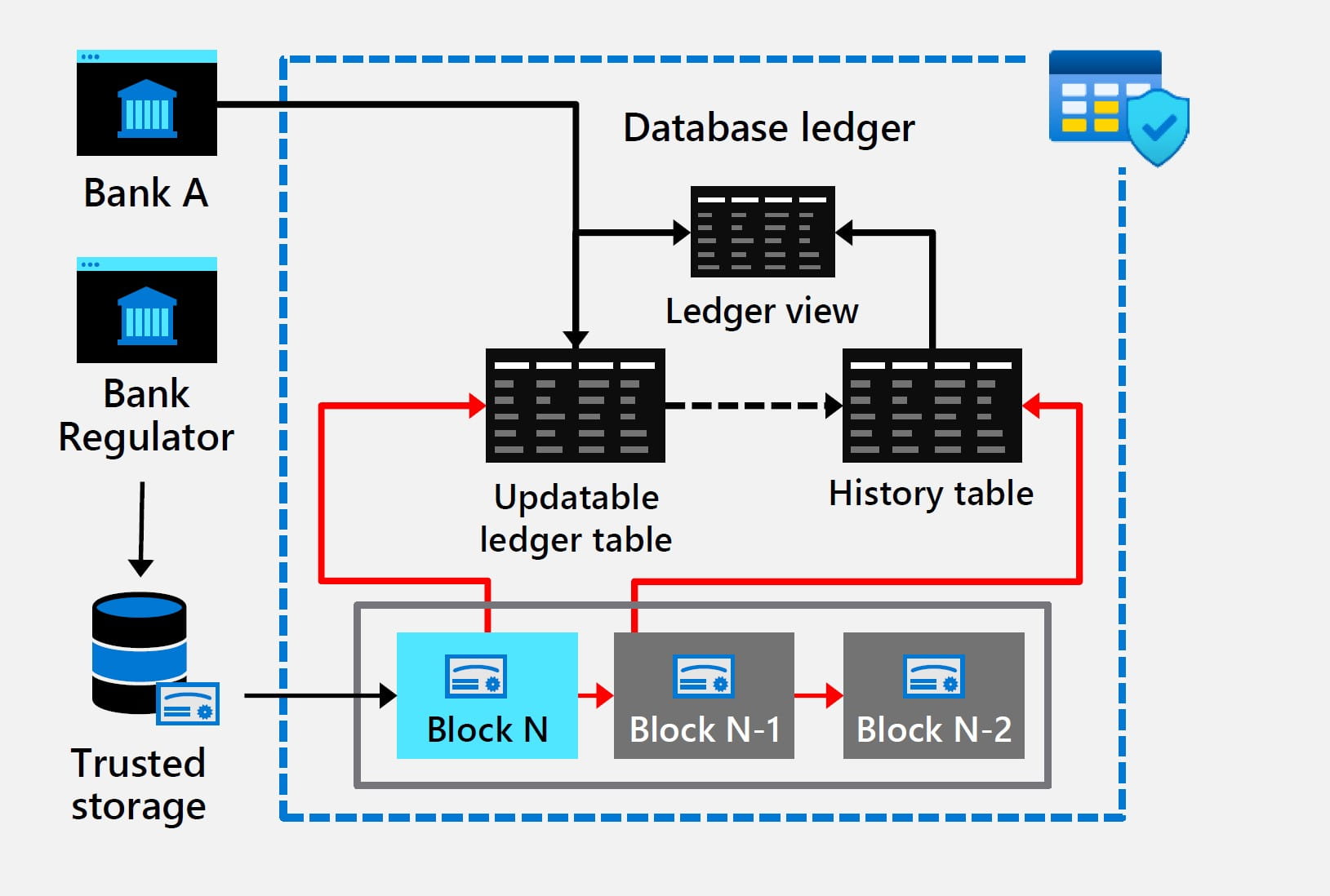 Microsoft Purview integration:
SQL Server 2022 integrates with Microsoft Purview, a unified data management service, for better data discovery that lets you break down data silos, and policy management for access control.
General ledger:
A new technology that brings the benefits of blockchains to relational databases by cryptographically linking data and its changes in a blockchain structure to make the data tamper-proof and verifiable. By embedding trust into the SQL Server database engine, Ledger facilitates the implementation of multi-party business processes, such as supply chain systems, and enables participants to verify the integrity of centrally stored data without the complexity and performance overhead of a blockchain network. Ledger can also help customers streamline compliance audits by providing auditors with cryptographic evidence of data integrity and eliminating the need for manual forensics.
Intelligent Query Processing Enhancements:
We are extending more scenarios based on common customer issues. For example, the "parameter-dependent plan" problem refers to a scenario where a single cached plan for a parameterized query is not optimal for all possible incoming parameter values. With SQL Server 2022's parameter-dependent plan optimization feature, we automatically enable the generation of multiple active cached plans for a single parameterized statement. These cached execution plans consider different data sizes based on the specified runtime parameter values.
Query Store:
We add support for read replicas and enable query hints to improve performance and quickly mitigate issues without having to change the T-SQL source. In addition, Query Store Hints are introduced in SQL Server 2022. Query Store Hints provide a user-friendly way to design query plans without changing application code.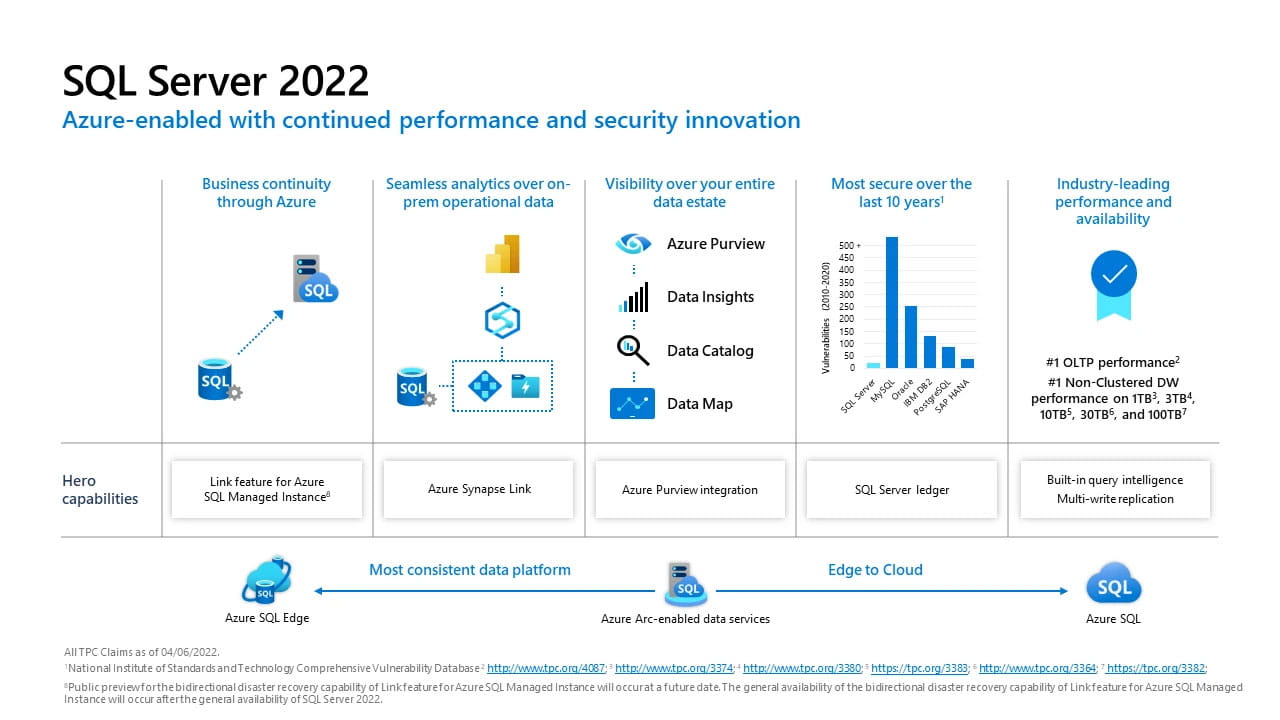 Among the security enhancements in SQL Server 2022:
Include Azure Active Directory authentication, support for richer queries in Always Encrypted with secure enclaves, backup and restore of certificates in PFX format, and numerous other enhancements to improve standard cryptography in SQL Server to address the evolving threat landscape.
Included Availability Groups: Supports managing objects (users, logins, permissions, SQL Agent jobs, etc.) at the availability group level using specific contained system databases within the availability group.
Multi-write replication: We automate the last-writer-wins rule. Now, when a conflict is detected, the most recent modification time is selected to be maintained on all replicas. This helps keep your multi-write scenarios running smoothly.
Data Lake Virtualization and Object Storage: Query any data lake and backup/restore SQL to S3-compatible object stores.
JavaScript Object Notation (JSON) Data: New JSON features to improve the ability to query and manipulate JSON data.
Memory and Concurrency: In-memory memory improvements for online transaction processing (OLTP) and system page lock concurrency improvements.
New features in SQL Server 2022
SQL Server 2022 (16.x) Preview is an evolution of the SQL Server platform that builds on previous versions. It offers a wide range of development languages, data types and operating systems, and enables work in on-premises and cloud environments.

Microsoft SQL Server 2022 Standard
SQL Server 2022 - Analysis
| | |
| --- | --- |
| New feature or update | Details |
| Azure Synapse Link for SQL | Retrieve real-time analytics on operational data in SQL Server 2022 (16.x) Preview. With seamless integration between operational stores in SQL Server 2022 (16.x) Preview and dedicated SQL pools from Azure Synapse Analytics, Azure Synapse Link for SQL enables you to run analytics, business intelligence, and machine learning scenarios on your operational data with minimal impact on source databases through new change feed technology. |
| Object store integration | In SQL Server 2022 (16.x) Preview, object storage is integrated into the data platform, so you can integrate SQL Server with S3-compatible object storage in addition to Azure storage. The first is Backup via URLs and the second is Data Lake Virtualization. |
| Data Virtualization | Querying different types of data on different types of data from SQL Server. |
SQL Server 2022 - Availability
New feature or update

Details

Link to Azure SQL Managed Instance

Connect your SQL Server instance to Azure SQL Managed Instance. See link feature for Azure SQL Managed Instanc.

Standalone Availability Group

Create an Always On availability group that:

Manage custom metadata objects (users, logins, permissions, SQL Agent jobs, etc.) at the availability group level in addition to the instance level.

Contains dedicated system databases within the availability group.

Distributed availability group

Changing REQUIRED_SYNCHRONIZED_SECONDARIES_TO_COMMIT is supported.
Now use multiple TCP connections for better network bandwidth usage over a remotelink with long TCP latencies.

Improved availability groups

ParallelRedoThreadPool: Instance-level thread pool shared for all databases where replay occurs. This allows each database to take advantage of parallel retry. Was previously limited to a maximum of 100 threads

ParallelRedoBatchRedo: replay log records grouped under a latch to increase speed. This helps both when replaying a replay and when replaying to restore after a crash.

Improved backup metadata

backupset system table returns the last valid restore time.
EES-88P1G56781
Live Stock:
In stock