Microsoft Windows 11 Professional
INSTANT DIGITAL DELIVERY!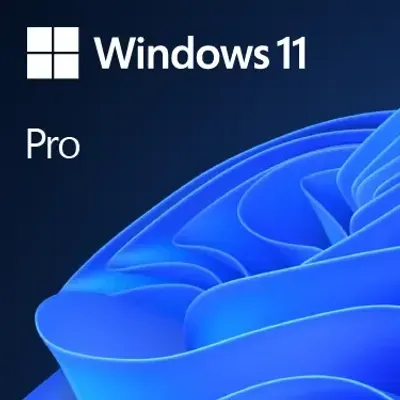 What our customers say about us
Can't make up your mind? Why not pay later?
Select Klarna or Clearpay on checkout
Description
Microsoft Windows 11 Pro Product Features:
Works with 1.2 GHz single-core processor (32-bit) or 1.4 GHz single-core processor (64-bit), / 64 GB* or greater available storage is required to install Windows 11

Windows OS: Full-featured software suite for home and workplace use.

Genuine product key - Gold Microsoft Partner

The complete and latest version

Upon successful completion of your purchase, you'll promptly receive a 25-digit activation key for Windows 11 Professional and COA (Certificate of Authenticity).
Product Information:
The Windows 11 Pro is an operating system that makes getting things done faster, easier, and more fun. It's great for both work and life and offers the best of Microsoft in one familiar experience. From the start screen to the new Windows Store, everything is illuminated with brightly colored live tiles. You can personalize every single Windows 11 Pro computer to make it yours, make certain you're up to date on important tasks with e-mail alerts and reminders and get smooth integration with SkyDrive for online storage.
Designed user interface
For starters, there's a new user interface with refreshed colors and icons, significant changes to the Start menu and taskbar, a major overhaul of the Settings app, a Widgets pane designed to deliver bite-sized chunks of news and reminders, and a vastly improved way to snap windows into place.
Snap out layouts
When you have a lot of open windows, Windows 11 will let you arrange them on the screen in different layouts and will save all of those windows in that arrangement. Snap layouts neatly arrange your windows into a grid pattern. The taskbar will also show your snap layout. If you go to the taskbar and hover over the icon for one of the apps in your layout, you'll see a thumbnail for both the app and the layout group it's in; you can click on either.
Switch multiple windows
Windows 11 Pro will allow you to set up virtual desktops in a manner more akin to MacOS, allowing you to switch between multiple desktops for personal, work, school, or gaming use. On each virtual desktop, you can also change the wallpaper. Better multitasking and a smoother transition from monitor to the laptop. It is intended to bring you closer to what you love, and it is being released at a time when the PC is playing an ever more central role in the way we connect, create, and play.
Microsoft online support
If you run into a problem or can't find a solution, Microsoft has you covered with free technical support via chat or phone. Allows you to ask, get help, and assistance with Microsoft products related to your purchase.
EES-J4SGK11070
Live Stock:
In stock