Visual Studio Professional 2022
INSTANT DIGITAL DELIVERY!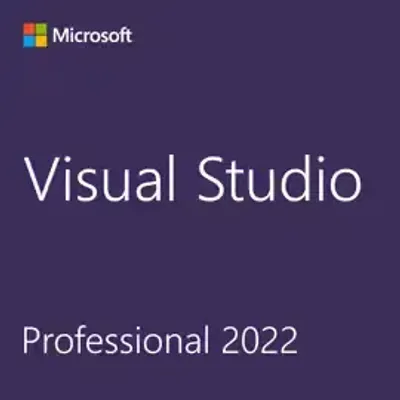 What our customers say about us
Can't make up your mind? Why not pay later?
Select Klarna or Clearpay on checkout
Description
Product Features:
Well-suited with Windows 10 or newer

Microsoft Product: Full-featured software suite for home and office use.

Genuine product key

Complete version
Product Information:
Visual Studio 2022 (VS 2022) is a powerful professional development tool that allows you to easily create applications for any platform. Microsoft Visual Studio is your one-stop-shop for developing web, mobile, and desktop applications. Many new and exciting features and IDE productivity enhancements are included in Visual Studio 2022 to support Windows app development, cross-platform mobile development, Azure development, web and cloud development, and more.
Save your precious time
Visual Studio 2022 19 built with Intellicode saves your time by placing the tasks you're most likely to complete at the top of your completion list. During the development process, it provides suggestions and coding objects. Intellicode's power will be derived from 2000 different open-source projects on Github, which will be used to streamline and improve your coding skills. The completion list is tailored to promote common practices when combined with the context of your code. IntelliCode's capabilities extend beyond statement completion. Signature help also suggests the most likely overload for your situation.
Search quicker and accurate
VS 2022 improved search results by leveraging cloud-based technology, artificial intelligence, and machine learning. Not only does search in Visual Studio now return more relevant results, but it can also assist you in discovering product features more easily. Taking search a step further, the system can be scaled to provide results from additional data sources, such as VS online docs and tech blogs, Bing search, and so on, for improved VS feature discoverability, unification with AI-powered code search services, and eventually personalized search experience in VS.
Connect and collaborate with other people
Live Share allows you to quickly collaborate on the same code with a friend, classmate, or professor without having to sync code or configure the same development tools, settings, or environment. Furthermore, it allows you to co-edit, co-debug, chat with your peers, share terminals, servers, read comments, and much more. You don't have to change your working style to collaborate with others. Live Share can meet all of your needs as well as those of your team.
Microsoft online support
If you run into a problem or can't find a solution, Microsoft has you covered with free technical support via chat or phone. Allows you to ask, get help, and assistance with Microsoft products related to your purchase.
EES-HHVQL5700-1
Live Stock:
In stock