Windows Server 2022 Datacenter Edition (24 Core License) - Additional License
INSTANT DIGITAL DELIVERY!
£5,111.77
incl VAT
(£4,259.81 excl VAT)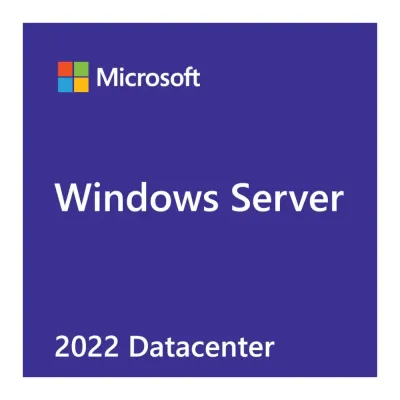 What our customers say about us
Can't make up your mind? Why not pay later?
Select Klarna or Clearpay on checkout
Description
Upon successful completion of your purchase, you'll promptly receive a 25-digit activation key for Windows Server 2022 Datacenter - Additional License, valid for a 24 Core License and associated COA (Certificate of Authenticity).
Windows Server Datacenter 2022 is designed to take your productivity to the next level. It expands on the strong foundation of Windows Server 2019 by introducing numerous innovations in three key areas: security, Azure hybrid integration and management, and application platform. Furthermore, Windows Server 2022 Datacenter: Azure Edition enables you to leverage cloud benefits to keep your virtual machines up to date while minimizing downtime.
Advanced protection
The innovative security solutions in Windows Server 2022 combine other security features in Windows Server across multiple areas to provide cybersecurity protection against advanced threats. Windows Server 2022's advanced multi-layer security provides the full protection that servers require today.
Connection security
Today's interconnected systems rely on secure connections. TLS 1.3 is the most recent version of the internet's most widely used security protocol, which encrypts data to provide a secure communication channel between two endpoints. HTTPS and TLS 1.3 are now enabled by default on Windows Server 2022, protecting client data. It replaces outdated cryptographic algorithms, improves security over previous versions, and attempts to encrypt as much of the handshake as possible. Learn more about the supported TLS versions and cipher suites.
Server message restriction
For SMB encryption, Windows Server now supports the AES-256-GCM and AES-256-CCM cryptographic suites. When linking to another computer that supports it, Windows will naturally negotiate this more innovative cipher method, and it can also be mandated via Group Policy. For down-level compatibility, Windows Server still supports AES-128. AES-128-GMAC signing now speeds up signing results
Connectivity performance
UDP is rapidly becoming a popular protocol for transporting increasing amounts of network traffic. The growing popularity of RTP and custom (UDP) streaming and gaming protocols The QUIC protocol, built on top of UDP, improves UDP's performance to that of TCP. Notably, Windows Server 2022 includes UDP Segmentation Offload (USO). USO offloads the majority of the work required to send UDP packets from the CPU to the network adapter's specialized hardware. USO is complemented by UDP Receive Side Coalescing (UDP RSC), which coalesces packets and reduces CPU usage for UDP processing. Furthermore, we have made hundreds of improvements to the UDP data path, both transmit and receive.
Microsoft online support
If you run into a problem or can't find a solution, Microsoft has you covered with free technical support via chat or phone. Allows you to ask, get help, and assistance with Microsoft products related to your purchase.
£5,111.77
incl VAT
(£4,259.81 excl VAT)
EES-Z84U910511
Live Stock:
In stock