Windows Server 2022 Standard Edition (24 Core License) - Additional License
INSTANT DIGITAL DELIVERY!
£920.27
incl VAT
(£766.89 excl VAT)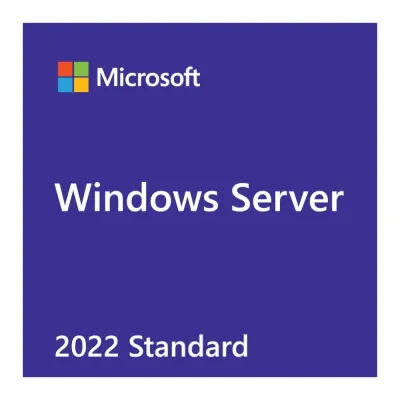 What our customers say about us
Can't make up your mind? Why not pay later?
Select Klarna or Clearpay on checkout
Description
Windows Server 2022 Standard Edition (24 Core License) Features:
Works with x64 instruction set (1.4 GHz 64-bit processor) / 512 MB (2 GB for Server with Desktop Experience installation option)
Windows Server: Full-featured software suite for home and workplace use.

Genuine product key

The complete and latest version

Upon successful completion of your purchase, you'll promptly receive a 25-digit activation key for Windows Server 2022 Standard, valid for a 16 Core License and associated COA (Certificate of Authenticity).
Product Information:
Windows Server Standard 2022 is a server operating system that allows a computer to serve as a print server, domain controller, web server, and file server. As a server operating system, it also serves as the foundation for separately purchased server applications like Exchange Server or SQL Server.
Modifiable storage repair speed
A new feature in Storage Spaces Direct is user-adjustable storage repair speed, which gives you more control over the data resync process by allocating resources to either repair data copies (resiliency) or run active workloads (performance). This improves availability and enables you to service your clusters more flexibly and efficiently.
Compression of SMB (Server Message Block)
SMB enhancements in Windows Server 2022 and Windows 11 allow a user or application to compress files as they travel across the network. Users no longer need to manually zip files to transfer them much faster on slower or more congested networks.
Hyper-V virtual switch advances
Updated Receive Segment Coalescing has been added to virtual switches in Hyper-V. (RSC). This enables the hypervisor network to group packets and process them as a single larger segment. CPU cycles are saved, and segments are kept together across the entire data path until the intended application processes them. This means better performance for network traffic received by a virtual NIC from an external host as well as net flow received by a virtual NIC from another virtual NIC on the same server.
Microsoft online support
If you run into a problem or can't find a solution, Microsoft has you covered with free technical support via chat or phone. Allows you to ask, get help, and assistance with Microsoft products related to your purchase.
£920.27
incl VAT
(£766.89 excl VAT)
EES-SR7IE10507
Live Stock:
In stock